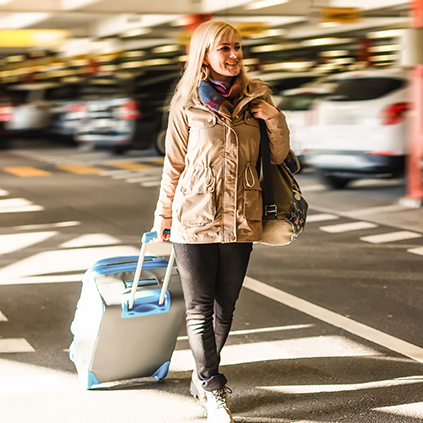 Corporate Employee Benefits
---
In addition to receiving employee discounts on OAK Airport parking, your employees can accumulate Rewards Points that can be redeemed for either business or leisure travel.
Corporate Airport Parking Satisfaction
Expresso Airport Parking offers excellent self-serve parking services to meet your long-term parking needs. Our off-site parking lot is located only minutes away from Oakland International Airport.
---

Discounted Rates
Enjoy an automatic 25% discount on our drive-up rate, seven days per week, including holidays.

Free Membership
Become a member of our Big Shots 2.0 Rewards Program, no strings attached.

Free Day Right Away
Enroll in our Big Shots 2.0 Rewards Program and get a FREE day of parking right away!

View Your Account
View your account history and past transactions in your digital dashboard.
Free Mobile App
Download our app to easily track your rewards points and reserve your OAK Airport parking.
Managed Parking For Every Company
---
The ability to scan your reservation on entry and departure was very helpful, but the service from your drivers coming and going was outstanding. When we returned a driver took us directly to our car. Now that's Service with a capital S. We also liked the jazz the return driver played in the van. Very Oakland!
The bus driver was very nice; saw us pull in and drove to where we parked so we could just hop in. In addition, he made another loop to make sure no one is left behind. Close to Oakland airport and friendly staff! Good deal!
I've been using Expresso Airport Parking for years. My recent to and from trip to the airport was the best. The guy on the way took extra time to make our trip special, while the guy on the reverse trip happens to know my family. They both were a highlight on our trip. We will be back!
We have used Express Airport Parking numerous times when flying out of Oakland International Airport. Like in previous times, the interaction was flawless. There new location makes it even easier for freeway access. Our driver was courteous, informative and very helpful. Look forward to using this parking service in the future.
Love the ease of this parking lot. Shuttles are always leaving so virtually no wait. They picked us up from Airport and dropped us to our car. I prepaid and received a discount too!
We had a flight that was delayed and could not get another flight until the weekend. I was worried about my car parked at the lot, but the Expresso Team took care of me with no issues. Great service.
It is very easy to reserve and pay online. Entering and exiting the parking lot is simple. The shuttle driver was AMAZING! She was so friendly and our ride back was so much fun! We always use Expresso and tell our family and friends about it too.
Great rates, plenty of availability, super easy check-in/out, and regular shuttles. Great experience, would definitely park here again.
I feel safe parking with Expresso. I don't have to wait long for the bus to pick me up from my car, waited less than 10 minutes for airport pickup. Courteous drivers too!