Proactive Travelers Can Secure Parking At Oakland Airport, Best Flight And Hotel Prices Before Trip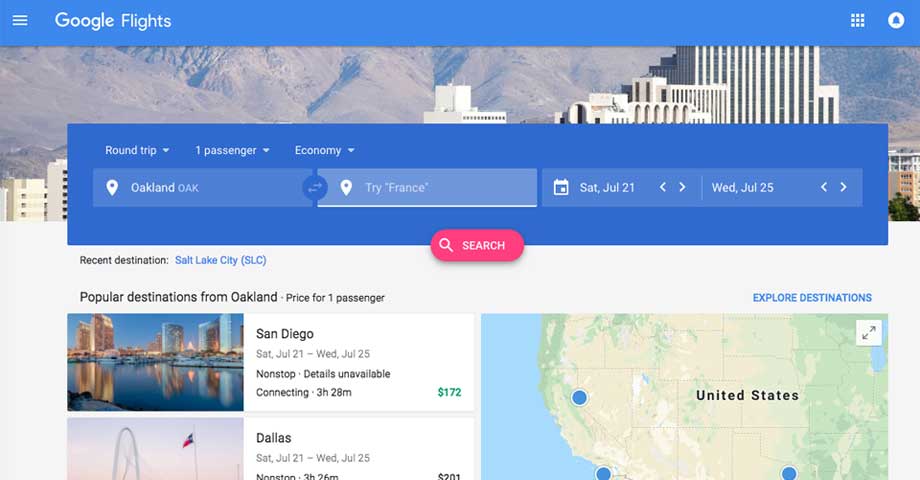 Google's reach continues to expand and a foray into the world of airline flights is giving consumers ways to keep real-time tabs on everything from average flight prices to hotel availability in their destination location. According to a recent Forbes magazine article, this all stems from Google's overtaking of ITA Matrix Software eight years ago, which has since been spun into a variety of services for consumers. Be it by using Google Flights, Google Hotels or Google Trips, convenience is the name of the game. However, veteran travelers will tell you that a successful vacation depends on the effort you put into it. The point being that counting on Google services to tell you everything you need to know in an instant – while you're half-way around the world and struggling to find a place to sleep – isn't going to cut it. Booking Oakland Airport parking, securing hotel rooms well in advance and researching the exchange rate before you land in a foreign country are tips worth heeding on top of Google's myriad of services.
According to the Feb. 2018 article from Forbes, Google Flights is holding its own against long-time front runners Orbitz and Priceline when it comes to find current airfare ticket prices. The fact that this service offers both an "ad-free interface" and "lightning-fast searches" is boosted by its own transparency so "information about on-time performance and carry-on baggage fees" is presented upfront. Google Hotels is another popular option for people finding lodging in their destination city. When using the search engine and browsing through nightly rates, a few clicks can land you directly on the hotel's website for fast booking and, best of all, being able to take advantage of the current prices.
Convenience is also the name of the game at OAK, where Oakland Airport parking is always a consideration for those with upcoming departures. With companies like Expresso Airport Parking offering drivers the ability to book online, it's possible to secure your Oakland Airport parking on the same day that you book your flight and hotel through Google services. All you need to do is enter your check-in and check-out dates and times and you'll soon be presented with the best quotes for parking. This 24-hour facility also offers around-the-clock video surveillance, convenient and free shuttles to the terminal, coupons, weekly discounts and so much more. While add-ons like exterior washes and detailing work are optional, skilled maintenance workers with the best parking options at Oakland airport can give your car a jump-start if it won't turn over after your trip. By taking these considerations into account when planning your trip, you're sure to save money and avoid any unexpected headaches.